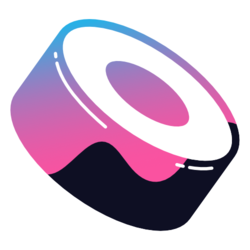 Sushi Coin Price & Market Data
Sushi price today is $9.35 with a 24-hour trading volume of $268,152,774. SUSHI price is down -6.5% in the last 24 hours. It has a circulating supply of 170 Million SUSHI coins and a max supply of 224 Million. If you are looking to buy or sell Sushi, Sushiswap is currently the most active exchange.
About Sushi
What is Sushi?
Sushi is a DeFi protocol that is completely community-driven, serving up delicious interest for your held crypto assets.
On Sushi, you can take advantage of passive-income providing DeFi tools such as liquidity providing, yield farming and staking. Furthermore, due to the decentralized nature of being an AMM (Automated Market Maker), Sushi has fewer hurdles to execute your cryptocurrency trades and all fees are paid to the users who provided liquidity, just as it should be!
Sushi is host to many hidden gems that are unavailable on other, similar exchanges, so it is a great way to discover new, exclusive opportunities. Sushi, serving DeFi's best!
What is the SUSHI token?
SUSHI is a governance token that enables community governance over the Sushi ecosystem. This means that SUSHI holders can use their tokens to vote for platform proposals to further ecosystem initiatives.
The SUSHI token can be farmed by participating in the yield farming program on sushi.com.
The SUSHI token may also be staked across various platforms such as Sushi's very own, SushiBar, or can be used as collateral on platforms such as Sushi's Yearn ecosystem partner, Aave. When SUSHI tokens are staked, users receive xSUSHI in return. xSUSHI holders receive 0.05% of each and every swap completed on sushi.com!
The History of Sushi
Sushi was announced in September of 2020 by an anonymous developer going by the name of, Chef Nomi. Upon its release, Sushi, also known as SushiSwap, attracted a lot of industry attention for labelling itself a community-driven AMM (Automated Market Maker). It was an exciting platform idea that spoke to the ethos of true decentralization.
Upon gaining quite a lot of traction in the DeFi community, Chef Nomi felt his work was done and made his exit by removing $14 million in SUSHI tokens from the Sushi development fund, which is the amount he personally felt he deserved for developing the platform. Many people felt this was in direct contrast to his community-driven platform vision, so he gave the funds back and asked the community to decide the amount he deserved.
When this event took place, many industry members believed that it had damaged Sushi's reputation too much for the platform to continue. However, an early Sushi believer, 0xMaki, stepped up to fill the empty role of Sushi lead and built the platform to incredible heights, even overtaking Uniswap in total platform liquidity on more than one occasion. Due to this unbelievable comeback, many people admire the Sushi community and team for growing the platform back and beyond the platform it was in its early days.
Sushi, still led by 0xMaki, now has a bigger team than ever, of talented individuals, creating innovative products such as BentoBox, Kashi, MISO, Mirin and Shoyu. Sushi's history has only just begun.